CamelBak Powderhound 12 Hydration Snow Pack

Designed for when the backcountry and sidecountry call, the CamelBak Powderhound hydration snow pack delivers 12L of low-profile avy kit organization, diagonal ski storage and a 3L water reservoir.


Circuit Vest 50Oz
Flash Belt 17oz
Fourteener 20 100oz

The Fourteener 20 is the high-performance pack you'll want on your back whether you've set your sights on bagging a peak in a day or you just want to tackle a steep trail on a hot day.


Hydrobak Light 50Oz
Kickbak 30 oz
Kickbak 30 oz
MULE 12 100 oz

Description There's a reason this is one of our bestselling, longest-running packs:


Octane 10 70oz Pack
Octane Dart 50oz pack
Rim Runner 22 85oz

Description For years, the Rim Runner has been a favorite all-around pack for day hikers. The updated design offers a clean, technical aesthetic, 2.5 liters of hydration, and a hip belt with cargo pockets that let you grab snacks or keys without removing


Rogue Light 70oz
W Hydrobak Light Pack
Zoid 70 Oz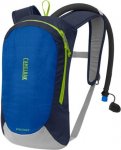 CamelBak Kicker Hydration Blue Snow Pack - Kids'

CamelBak Kicker Hydration Blue Snow Pack - Kids'



Out of Stock
Camelbak SNOBLAST 70oz Winter

Camelbak SNOBLAST 70oz Winter


LOBO 100

The Lobo is ideal for days when the weather is clear and the trail is calling days when you want to ditch most of your gear to travel fast and light. With 3 liters of hydration capacity, it carries enough water for a substantial 3+ hour ride


MINI MULE 50 OZ

Description This pack has grownup features?1.5 liters of water, a bike tool organizer pocket, and zippered compartments for layers and essentials? in a package that fits younger explorers. We?ve also added reflective strips and a safety whistle to make k


QUICK GRIP Chill 21 oz

Description The Quick Grip Chill lets you move light and fast, but holds enough water for a substantial 5 – 10 mile run. It also includes a zippered pouch with just enough room for the three true essentials: keys, card and phone.